Every instance of Composer and Player needs a license. Licenses are device specific - they can be used on only one device at a time - and licenses must be activated to be used. However, all licenses can be transferred from one device to another as often as you wish.
Intuiface Composer
Intuiface Composer licenses are differentiated by duration and feature set. The feature set is determined by the plan. The duration options available for each plan are as follows:
month-to-month: Composer Enterprise
annual: Composer Essential, Premier, Enterprise
perpetual: (no longer sold) Composer Enterprise
Composer Free operates as if it has a perpetual license. Free Edition limitations are discussed here.
To activate a subscription Composer license, see this article
To release and transfer Composer licenses, see this article
To activate a perpetual Composer license, see this article
Intuiface Player
Intuiface Player licenses are differentiated by platform and duration.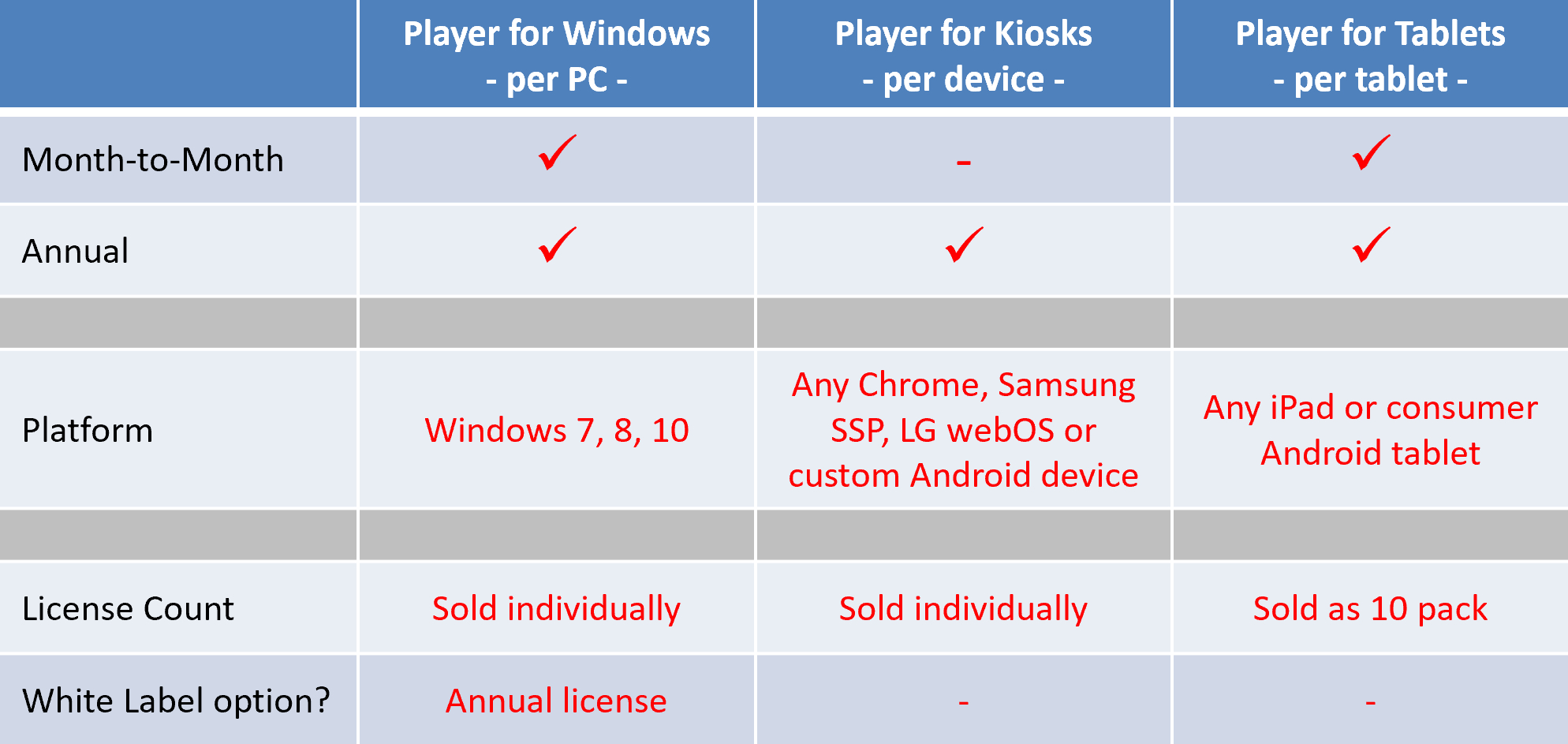 DEFINITIONS
Consumer Android tablet: any Android-driven tablet 1) manufactured by Samsung, Sony, Acer, Asus, Lenovo, Huawei, HTC, OnePlus or Motorola with 2) a screen diagonal no larger than 13.5 inches (34.3cm).
Custom Android device: Any Android device that doesn't satisfy the above definition for Consumer Android tablet.
White Label: Ability to remove or replace the Intuiface-branded splash screen visible when Player starts. Player for Windows only.
Free Players are available for all platforms. The limitations of these free Players are listed here.
Note: There is no direct upgrade path from monthly to annual. Cancel renewal of your monthly subscription and then, on its renewal date, purchase an annual license.
Network Requirements
For license activation to occur, your network must permit Intuiface to access the URL https://license.intuilab.com over Port 443.
For details about when and how often Internet access is required by Intuiface licensing, see this article.
License Activation and Transfer