My Intuiface
The My Intuiface website is a control panel enabling you to manage your account and take advantage of multiple services offered by Intuiface. You can find it here: https://my.intuiface.com.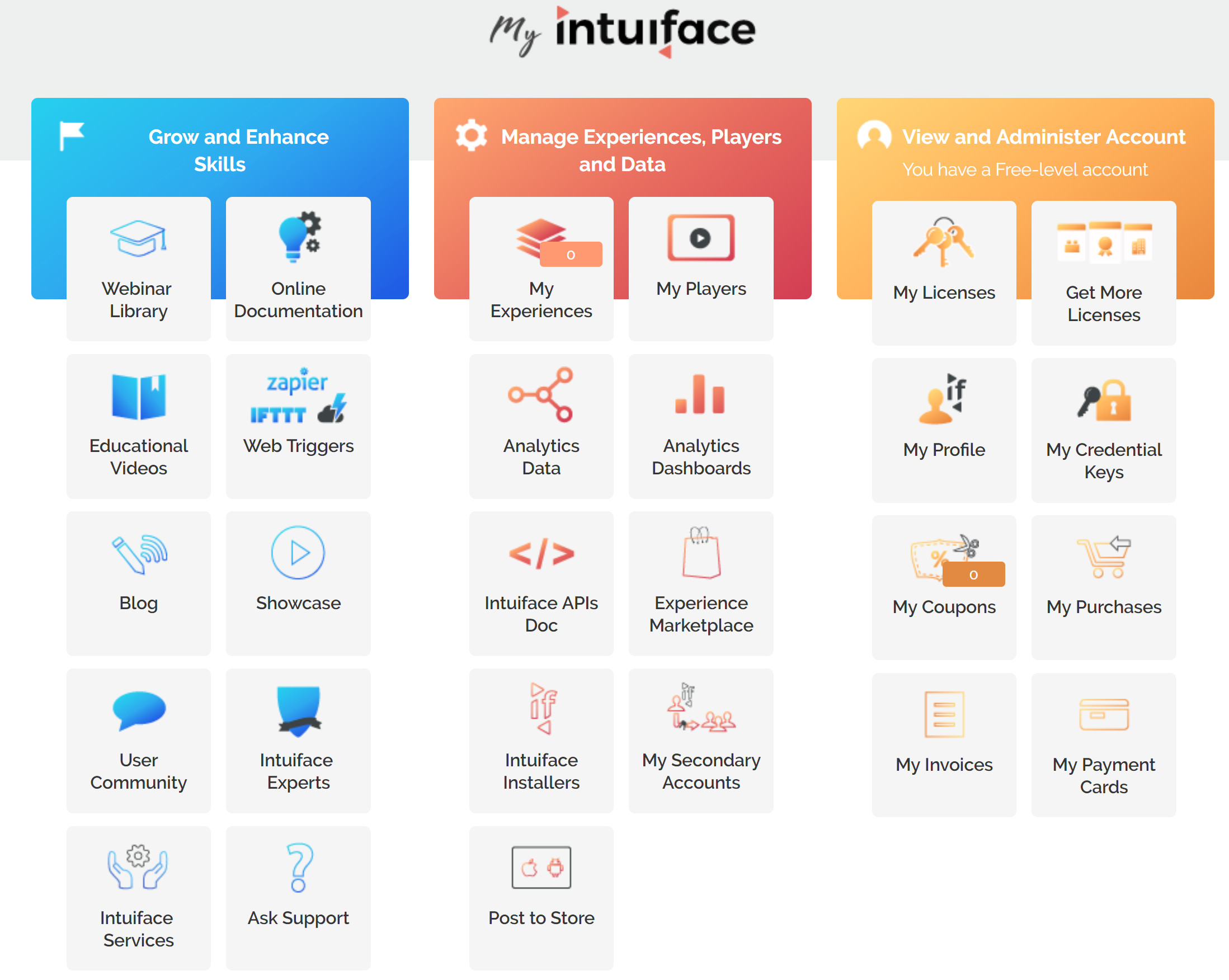 Below is a detailed list of each option found on the My Intuiface website:
My Licenses – An inventory of all purchased licenses. Shows their location if deployed, expiration dates and more.
My Purchases – A history of all license purchases made by this Intuiface account.
Manage My Experiences – Access Management Console, the resource used to share and deploy any published experience.
Marketplace – Choose from an extensive catalog of free to download and paid Intuiface-based content. Add them into your own projects, then personalize.
Downloads – Download installers for Intuiface Composer, Player for Windows, Player for Kiosks and Player for Tablets. You also have links for Intuiface IntuiPad, the Intuiface remote control for iPad and Android.
Get more licenses – Purchase new Intuiface Composer and Player licenses as well as new/upgraded Analytics plans.
My Coupons Coupons for all Intuiface promotions to which you are entitled will be listed here. Don't worry! You will always receive an e-mail if a coupon is available. (Coupons are only offered to primary accounts.)
Manage My Secondary Accounts – Every primary account can have one or more linked secondary accounts, you can manage them here. For more details about using secondary accounts, read this article.
Get help – Access the Intuiface Knowledge Base with more than 200 articles on a wide range of topics, browse all existing discussions, start a new discussion on your own topic or visit the Intuiface User Community .
Analytics Data – Monitor data point storage and forward data points collected using the Intuiface Analytics to third party analytics platforms.
Analytics Dashboards - Create charts, organize those charts by dashboard, and share dashboards, all based on the data points collected using the Intuiface Analytics feature.