NOTE: One does not log into or out of Player on Windows. To enter, activate or change your Player for Windows license, see this article.
Introduction
Intuiface Composer and Player support the ability for users to log in and out of their Intuiface accounts. With this ability, Intuiface users can
Automatically retrieve licenses without requiring manual license key entry.
Access different Intuiface accounts - and thus different license and experience stores - on the same device.
Prevent others from using Composer or Player on a public device.
Release licenses for use elsewhere.
Logging In and Automatic License Selection
All new installations of Intuiface Composer and Player for Tablets/Kiosks require the user to enter his/her Intuiface account credentials. The same login screen is presented after logout. (Click the image to enlarge.)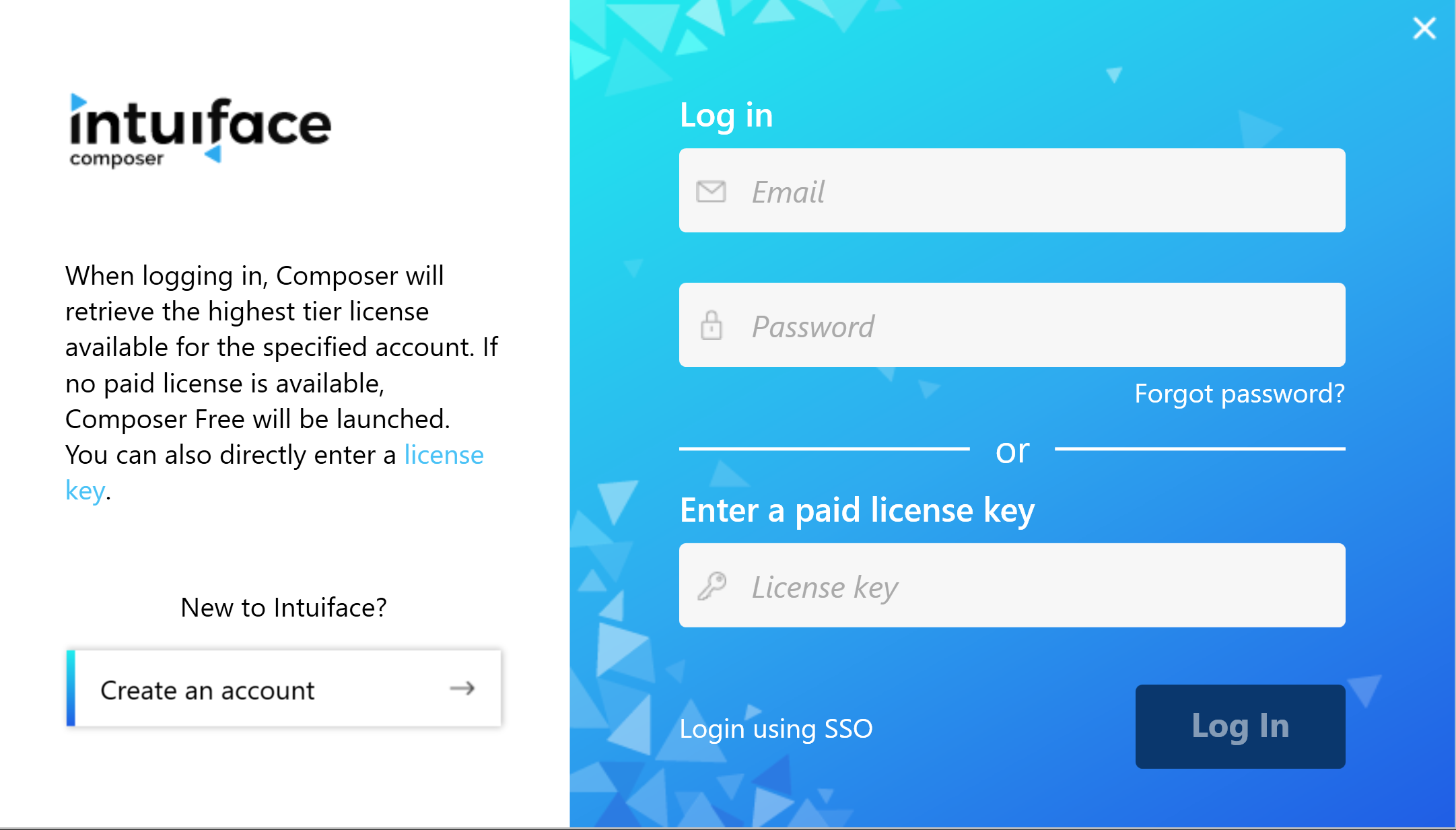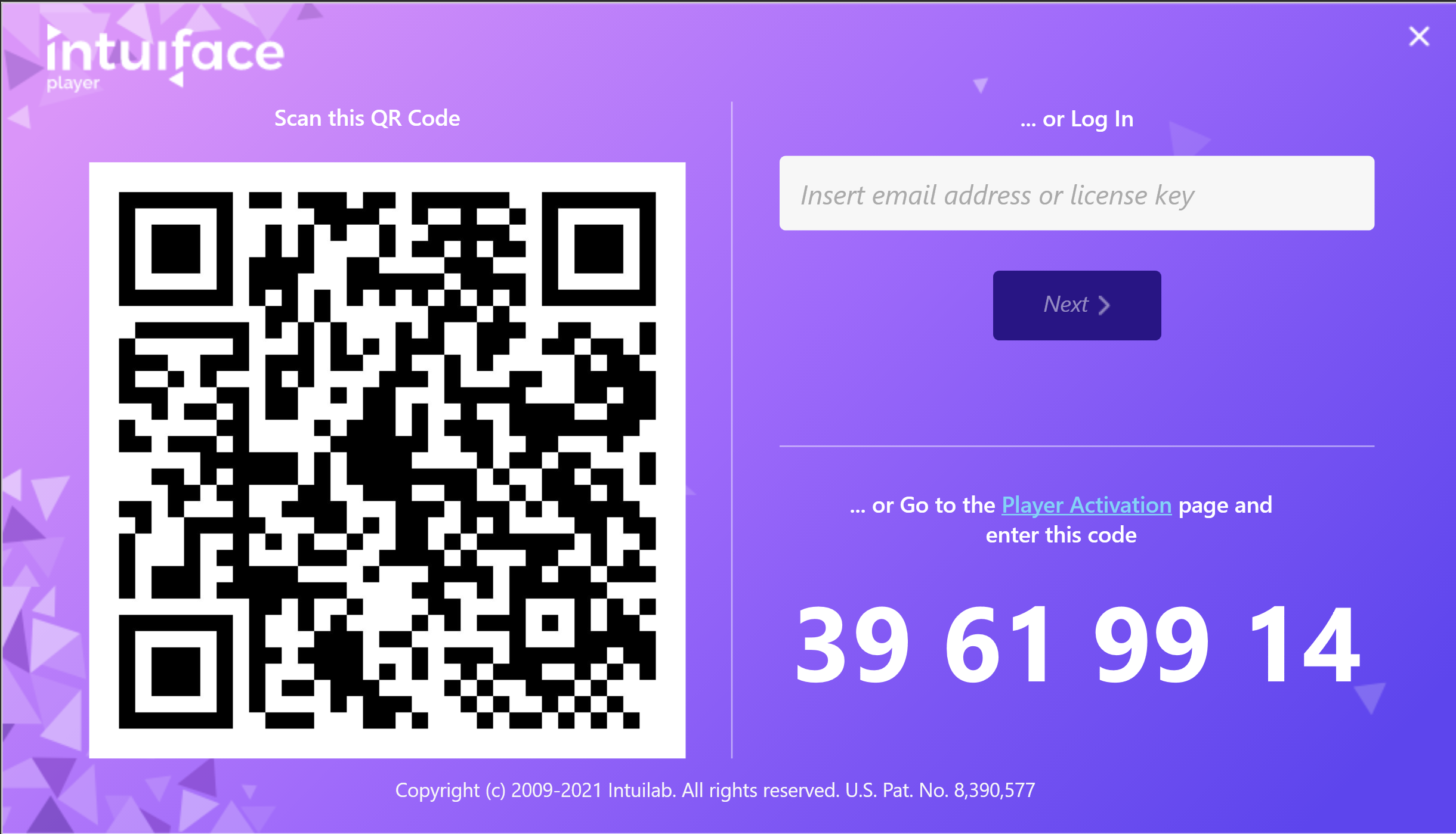 After submitting these credentials, Intuiface queries that user account for all available licenses.
Selection order for Windows licenses
License selection and retrieval will proceed automatically as follows, in descending order of priority:
If one and only one license has already been activated on this PC by this account, that license will continue to be used. This is true even for expired licenses. If the license is expired, the user will be presented with an error message. To use a new license you would have to first release the existing license.
If no license has already been activated on this PC and a paid license is available, that license will be activated.
If no license has already been activated on this PC and no licenses are associated with this account on the license server, then Composer/Player will not run.
If no Internet access is available, login is not possible.
Selection order for other Player-supported operating systems
The license with the highest duration level will be used. The order is:


Annual Player
Month-to-Month Player

If no licenses are associated with this Intuiface account on the license server, then Player is not run.
If no Internet access is available, login is not possible.
Avoiding Automatic License Selection
To avoid the automatic license selection process outlined above, don't enter account credentials in the login screen. Rather, enter a license key directly as described below.
Composer
Step One: Retrieve a License Key

Go to your license dashboard to view a list of all of your licenses.
In the License key column, click on the key you wish to activate. By left-clicking it you will be able to copy it into your clipboard.

Step Two: Enter your license key into Composer

Run Composer. If you've already logged into Composer, log out.
At the bottom of login panel, find the Enter a license key option

Paste the license key from Step One above into the awaiting text field and click the OK button.
This will initiate a (virtually instantaneous) license validation process over the Internet. Once validated, the license will be activated on your PC.
Player
Use any of the Player activation methods that enable you to specify a specific license key.
Logging Out
Logging out causes the activated license to be released, freeing it for use on another device. It is only possible if a live Internet connection exists. Without a live Internet connection, logout will be refused.
NOTE: In Player, the act of logging out does NOT release its associated license. Logging out is only required if the intent is to permit another Intuiface account to log in. The license itself must still be released.
Composer
Use either of the following two methods.
In the Experiences panel, select the Log out link found just below your email address in the top right corner.

OR
Select the File menu option Logout and exit.

Player
Player on Windows
Logging out is not possible. Instead, you need to release a license by following the directions here.
Player on all other supported platforms
Select the Activate New License link found in the middle of the taskbar at the bottom of Player's Experiences panel.

Additional Notes
You must have an active Internet connection to activate your license. Intuiface must be allowed to use ports 80 and 443 if your device is protected behind a firewall.
It is not possible to run multiple instances of Composer on the same PC at the same time using different Intuiface accounts and/or licenses. Whichever account and license is selected for the first instance of Composer will be applied to all additional instances.
The only way to run the 28-day Trial is to have no available paid licenses associated with a given account. it is not possible to run the Trial if paid licenses are available.