Configuring Windows PCs for touch and gestures
Open Pen and Touch in the Windows Control Panel

To access the Control Panel, tap on Start and type Control Panel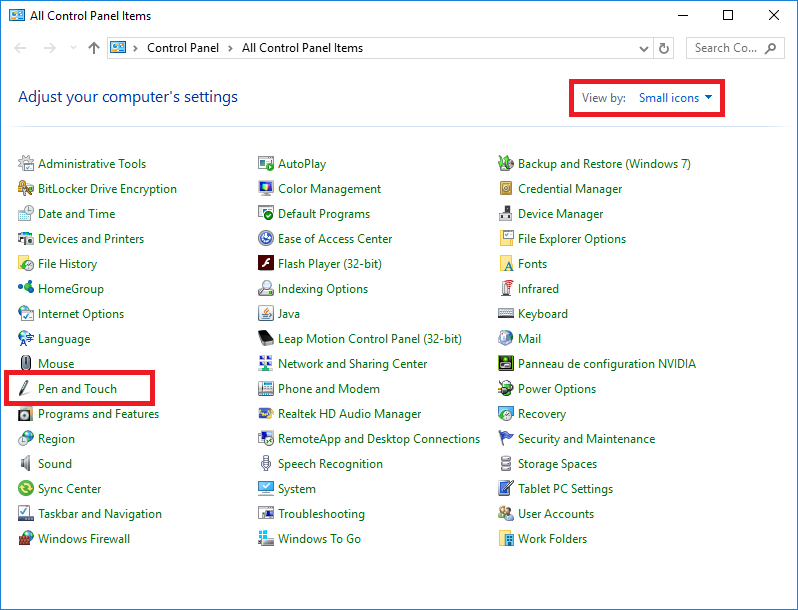 At the bottom of the panel, uncheck the option Show visual feedback when touching the screen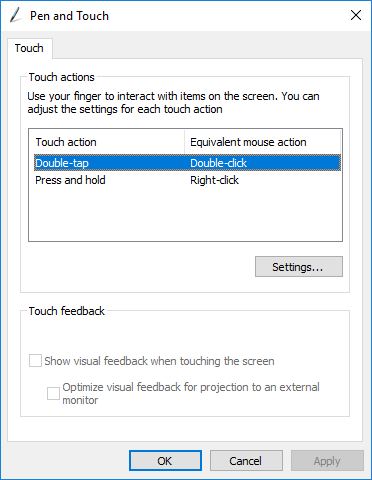 Select the Press and Hold touch action and click on Settings...

Uncheck Enable press and hold for right-clicking



Click the OK button and then, if available on your device, select the Flicks tab

Uncheck Use flicks to perform common actions quickly and easily



Close the Pen and Touch control panel by clicking OK
Troubleshooting touch issues
Some users report interaction issues such as two touch points being detected while using only one finger on the touch screen. Here are a couple of ways to address this kind of problem:
Deactivate TUIO or Windows native touch (HID) on your touch device. (Use your display's user manual for directions.) By default, Intuiface is listening for both kinds of touch events. This can cause a problem when both Windows native touch and TUIO interfaces are activated.
If your device is a PQLabs overlay or a TablerTV, follow the directions here to deactivate TUIO.
If you don't need to use Intuiface's remote control feature, you can deactivate TUIO listening in Intuiface itself. To do this, run the Intuiface Configuration Tool, uncheck the "Accept remote control" option then click on Save. For more about the Configuration Tool, see this article.
If you have any trouble configuring your touch device, contact the Intuiface Support team.