Description
NOTE: Deep Zoom asset is only supported on Windows devices.
NOTE: Silverlight 5 has been discontinued by Microsoft on October 2021 rendering the the "Microsoft Deep Zoom Composer" unavailable.
You can still use images produced using the following settings in Deep Zoom Composer:
Output type: Silverlight Deep Zoom
Export Options: Export as a composition (single image)
When importing a Deep Zoom image into Composer, select the file dzc_output.xml. Composer will import the associated image files found in the dzc_output_files folder.
You can import the Deep Zoom file used in the above animated gif.
Download it here
Important note concerning Deep Zoom images
The Container style property must be set to Static or Pin to allow users to explore the Deep Zoom image.
Properties,Triggers & Actions
Properties
See our list of common properties for details about properties shared by all asset types.
Appearance
Deep Zoom image
Initial view defines the level of zoom when the Deep Zoom image is first displayed
Show curtain shadows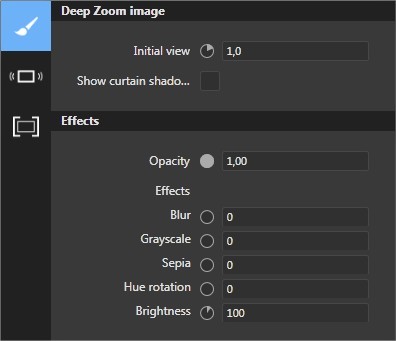 Behavior
Deep Zoom image
Allow zoom lets users zoom the Deep Zoom image
Min zoom defines the minimum zoom percentage for the Deep Zoom image
Max zoom defines the maximum zoom percentage for the Deep Zoom image

Triggers
See Triggers Overview to get details of common triggers shared by all assets or collections
Viewport is changed: Raised when the viewport has been changed. This trigger raises the following parameters: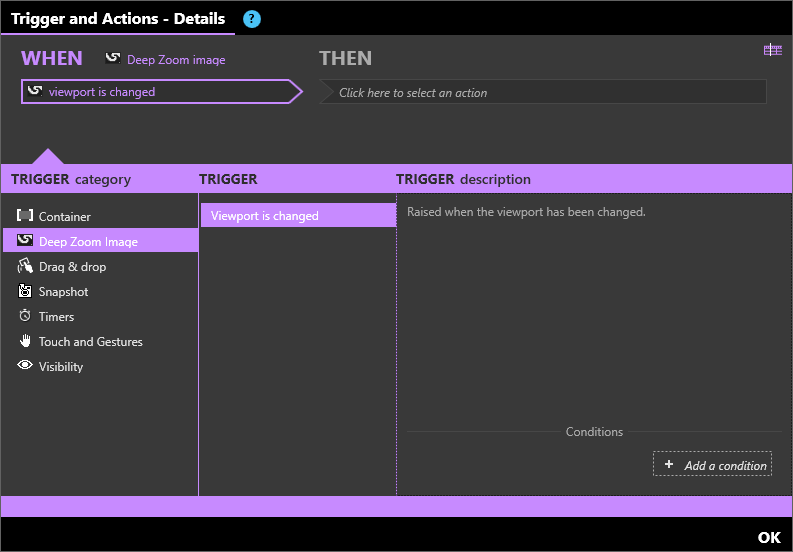 Actions
See Actions Overview to get details of common actions shared by all assets or collections
Set viewport: Set viewport using the center coordinate and size.

Top left point, x coordinate
Top left point, y coordinate
Width
Height

Change Deep Zoom Image: Replace current content with new content located at a specified URI.

Deep Zoom Image: the new content to display.