What is a design accelerator ?
Design accelerators are ready-to-use components - assets, collections even scenes - you can add to any Intuiface project. Use these accelerators to give your experiences a more professional, finished look in less time than it would take you to create everything from scratch.
All design accelerators can be further customized just like any other item in your Intuiface project.
Intuiface has prebuilt many design accelerators for you, but you can also create your own. For information about working with prebuilt accelerators, continue with this article below. For information about creating your own accelerators, see this article.
Where do I find design accelerators within Composer?
Design accelerators can be found in the Design Accelerators panel. This panel will be displayed on the left side of Composer.

Use the slider control at the bottom of the Design Accelerators panel to increase or decrease the display size of each listed accelerator
Some Design Accelerator bundles are preinstalled with Composer while others are available for download.
How do I add a design accelerator into my experience?
View the Design Accelerators panel. If you can't see it, click on the Design Accelerators Icon or select the menu option Window -> Show Design Accelerators.
Expand the bundle you're interested in and then use either of the following methods to add a specific design accelerator into your project:


Single-left-click the desired design accelerator, OR
Drag-and-drop the design accelerator into the Space
How do I install new Design Accelerator bundles?
A wide variety of Design Accelerator bundles are not preinstalled with Composer. In fact, Intuiface continually creates and publishes new bundles throughout the year.
To view and add Design Accelerator bundles not preinstalled with Composer, click the Get more Accelerators button at the top of the Design Accelerators panel. A window labeled Get more design accelerators will open.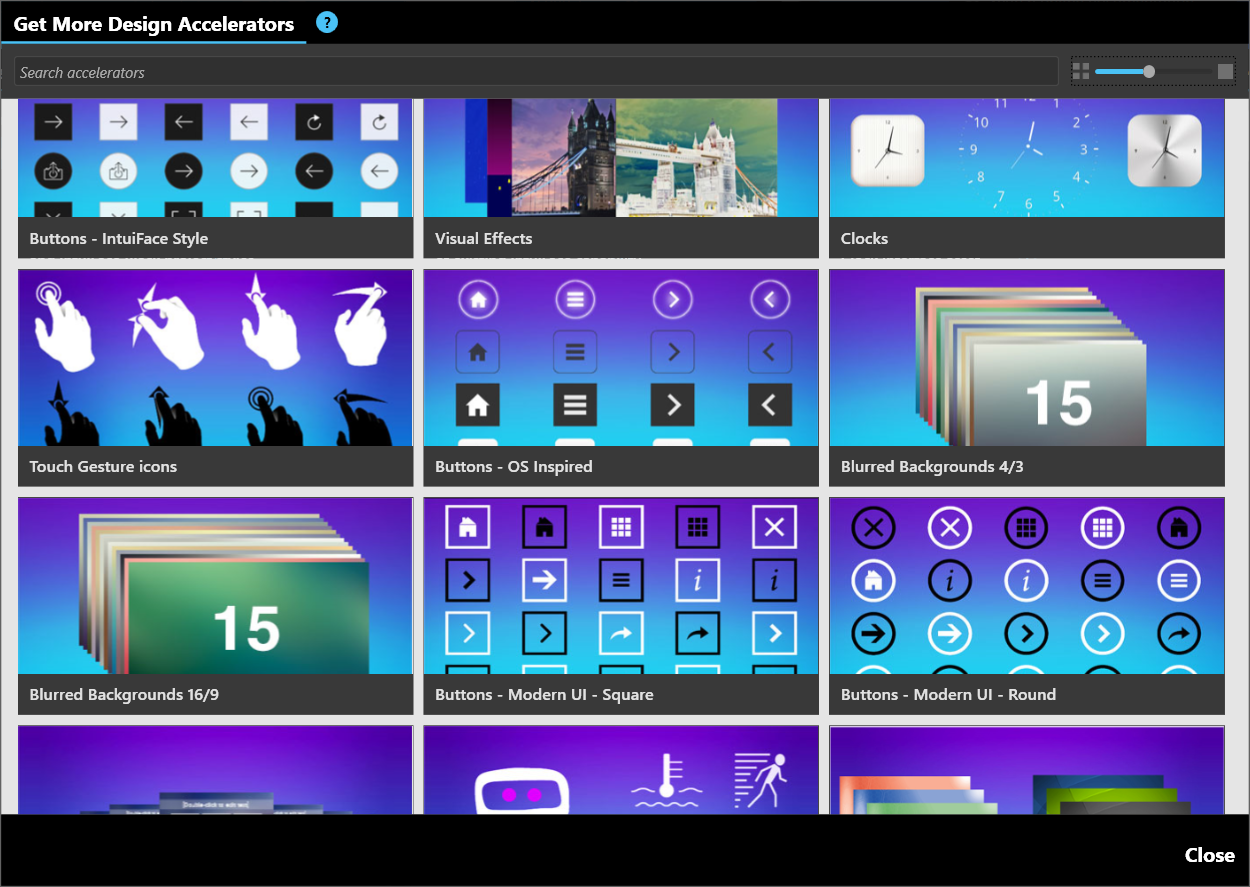 Hover over any bundle to see a description. Left-click any bundle to initiate the download process.
These bundles will be stored in the Design Accelerators folder located at C:\Users\[username]\Documents\Intuiface\Additional content and will be accessible to all Intuiface projects located on the same PC.