Overview
Dashboards are the home for your charts and are populated with any number of charts based on particular data sets and targeting particular audiences.
A common use of dashboards is to provide customized views for individual clients. Each client would be assigned their own dashboard. The notion of "client" of course applies to agencies and integrators but could also apply to any corporate use where more than one manager or CxO has an interest in the data and the conclusions that can be reached with their help.
Platform Plan Tiers and their Dashboard Limits
Your Platform plan determines the number of data points per Player that can be collected by an Intuiface account. Looking at the table below, multiply the number of Players in an account by the per Player limit. The result is the data point limit for that Intuiface account. (The numbers in the table are not a per Player limit; they're just to calculate the account limit.)
There is no limit to the number of dashboards that can be created.
| | | |
| --- | --- | --- |
| Platform Plan | Data Point Limit per Player | Number of Dashboards |
| Essential | 2k | Unlimited |
| Premier | 10k | Unlimited |
| Enterprise | 30k | Unlimited |
Accessing Your Analytics Dashboards Console
To view your dashboards, head to the My Intuiface website, login if necessary, then click the Analytics Dashboards button in the center of the page.
[image]
Layout of the Analytics Dashboards Console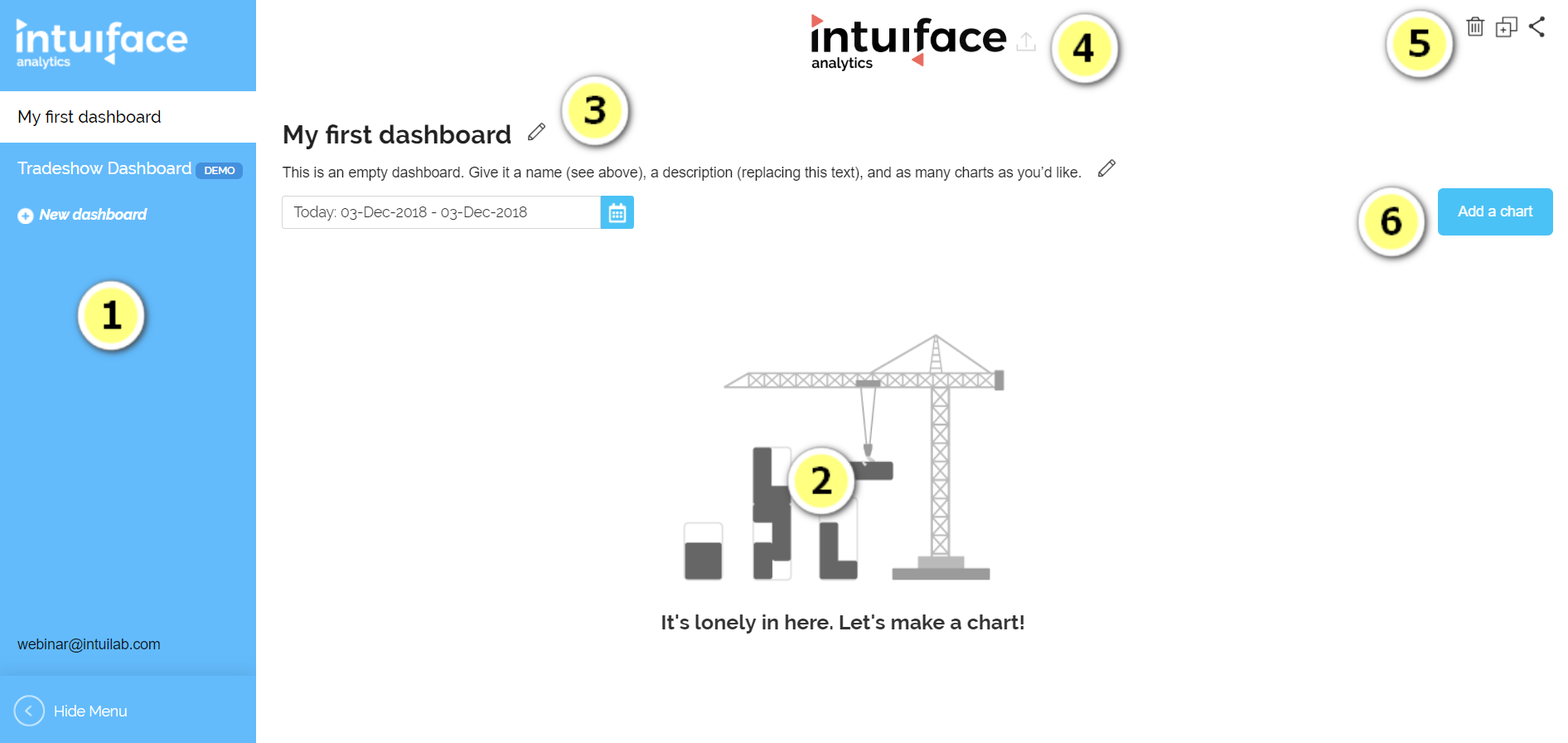 1. Dashboard List
All of your dashboards will be listed here. The selected dashboard highlighted will have a white background. (As noted above, your Analytics plan determines how many dashboards you can create.)
A "Hide Menu" option at the bottom enables you to hide the Dashboard List.
2. Charts Pane
This is where you arrange charts in your dashboard. Any number of charts can be placed in a single dashboard and any possible arrangement is permitted.
Charts can be resized as well as drag-and-dropped into any order.
If one or more charts are present, an "Optimize Layout" option appears to the left of the "Add a chart" button. Clicking the optimize option will automatically tighten the layout.
3. Dashboard Information
Here you can specify
dashboard title
dashboard description
dashboard-wide date range applied to any chart that doesn't have a custom date range
4. Dashboard Logo
Unique to Platform Enterprise, this image can be replaced with any other logo.
5. Dashboard Tools
Each dashboard has an associated set of tools:

Delete: Deletes the dashboard and all charts found within it.
Duplicate: Creates a copy of the current dashboard with all of the same charts.
Share: Share a read-only version of the dashboard. See below for details.
6. "Add a chart" button
Click this button to start the chart creation process. Read all about it in the article about Intuiface Charts.
Create a new dashboard
At the bottom of the list of existing dashboards, in the Dashboards list, is the button


Click this button to create a new dashboard
Share an existing dashboard
Read-only versions of a dashboard can be shared in one of two ways:
as a web page with a unique URL
OR
as an iframe embedded within a web page
Each dashboard can have multiple URLs or iframes, enabling the same information to be shared with more than one party. Each party would have a unique URL or iframe that could be turned on or off by the dashboard owner
NOTE:
A change to dashboard content (e.g. addition/removal of a chart) will affect all shared instances of that dashboard.
Dashboards cannot be exported to flat files; exporting is only possible for individual charts. Dashboards can only be shared.
Open the dashboard sharing panel
In the upper right-hand corner of a dashboard, click the Share icon:

Then click the "Create share" button.

Configuring a share
Clicking the "Create share" button results in the generation of both a unique URL and iframe code for the current dashboard. The URL and iframe options are separated as tabs.

Click the pen icon -

- to rename this sharing instance in a way that will help you keep track of those with whom you have provided the URL or iframe access.
Use the recycle icon -

- to create a new URL and new iframe code. Click the trash can icon -
- to delete the share completely
Expand the Display Options section to identify what should be included in the share:

Dashboard name: Toggle whether the dashboard name should be included within the share
Dashboard logo: Toggle whether the logo at the top of the dashboard should be included within the share. This option is only available with the Platform Enterprise plan.
Dashboard description: Toggle whether the dashboard description should be included within the share
Date range picker: Toggle whether the date range picker should be visible, enabling the viewer to change the date range. Optionally, you can limit the date range.
All charts: Deselecting this option will present a list of charts, enabling you to specify which charts from the dashboard should be included in a particular share.
Creating a new share
The same dashboard can have multiple URLs and iframe code. Click the "Create a new share" button at the bottom of the Dashboard Sharing panel to generate a new URL and iframe pair that is independent of any other dashboard shares.

Working with charts
Each chart within a dashboard has a set of tools associated with it. Click the hamburger menu item to view the available tools

--->

The four tools are:
Delete (): Deletes this chart from the dashboard.
Download (): Exports this chart in a variety of flat file formats or as raw data. (This feature is only available with paid Analytics plans.)



PNG/JPEG: Raster file formats
SVG/PDF: Vector file formats
CSV/XLS: Raw data (CSV = comma separated values; XLS = Excel spreadsheet)

Duplicate (): Create a new instance of this chart in either the same dashboard or a different dashboard.
Edit (): Open the Chart Editor.
plus
Close Chart Tools (): Close the chart tool options
Charts can be resized by dragging any side or corner. Click-and-drag charts to reposition them within the dashboard and to rearrange them with one another.
Sample Dashboard for Evaluation
All Intuiface accounts have access to the dashboard named "Tradeshow Dashboard", which contains a data set collected by Intuiface at a trade show in 2018. You can use this dashboard to study how existing charts were created or create your own charts. You can also export the data using one of the Intuiface Analytics connectors.
This demo dashboard does NOT count against your Analytics plan's dashboard limit.
Video explanation - Embedding analytics dashboards in an experience
You will find, in the Quarterly Q&A Live - Spring edition 2023 video, a detailed example of how to embed analytics dashboards in an experience