Overview
Circumstances may arise when it becomes necessary to change the email address associated with an Intuiface account. For example, the original email address may be associated with an employee who is leaving the company. Or perhaps an organization decides to replace an individual's email address with a generic address.
This email address can be changed.
How to change the account email address
Log into the Intuiface account and access your Profile page. Next to the Login field, which contains the current account email address, is a link named "Change the email address". Click that link and follow the directions to change the address.

The new address should not be associated with an already existing Intuiface account. Account merges are not possible.
Emails will be sent to both the requester (the original email address) and the potential new owner (the new email address). The latter must accept the ownership request in 24 hours or the request will time out.
The password of the Intuiface account remains unchanged. To change it, head to the same Profile page and click the "Change my password" option.
Consider additional "Email Contact" change
The "Email Contact" is a secondary email address assigned to an Intuiface account, used as the contact point for license and billing-related emails. (Billing may be handled by a different party than the Intuiface user.) After changing the account email address, you may want to consider updating the Email Contact as well.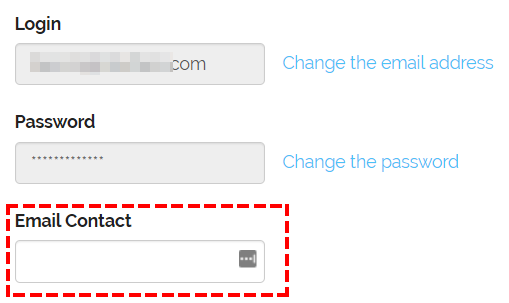 What if the owner is gone and the password is unknown?
If you have access to the email account for the original email address
If you have access to the email account for the original email address, submit a password change request on the Account Login page. This will send a URL to the original email address for a password reset.
If you do not have access to the email account for the original email address
If you do not have access to the original address's email account, send your request to Intuiface Support by using this form and let us know you need to reassign the Intuiface account but are unable to login.
To ensure the validity of the request, Support will look for proof of authority. Support cannot assume that a change request submitted by an employee from the current account holder's company is legitimate. One option is to have the account holder's IT organization open the inaccessible email account and send the change request themselves.