Description
The Three Value Comparison interface asset enables you to compare three values. Both text and numeric comparisons are possible. Your choice of operator - see below - will depend upon the comparison you would like to achieve.
The following image shows an example of how one might use the Comparison interface asset.

Properties, Triggers & Actions
Properties
Value A: the first value to compare
Value B: the second value to compare
Value C: the third value to compare
Operator: the operator to use
The property below is a read-only property, thus only visible through a binding
Result: contains the result (true or false) of the comparison between value A and B using the selected operator.
List of Operators:
Equals
Does not equal
Less than
Less than or equal to
Greater than
Greater than or equal to
Triggers
Result changed
Result is false
Result is true
Actions
There is one specific action for this interface asset.
Set all values: Sets value for A, B and C.
In addition, the generic Set asset properties actions are available for the purpose of changing Value A, Value B, Value C and the Operator.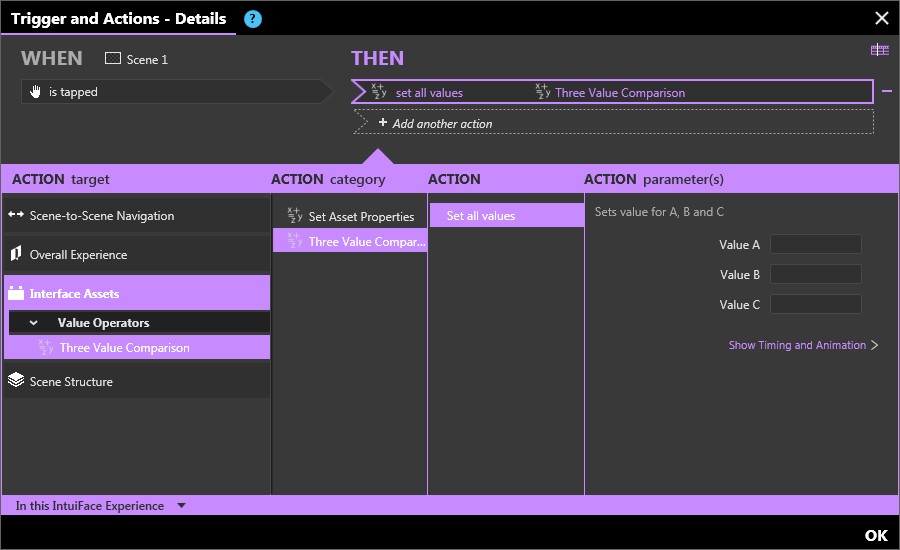 Usage sample
This Three Value Comparison is used in our Slot machine and the Multiple item scratchcard game samples to decide if the user has won or lost, depending of 3 input values.