Introduction
To test your work while editing it, Intuiface Composer embeds three instances of Intuiface Player: 1) current generation of Player on Windows, 2) current generation of Player on all other supported platforms, and 3) Player Next Gen. The Player Next Gen version is only visible if you've been granted access by Intuiface. (If you'd like access, please let us know.)
Running the Player corresponding to what you'll be using on your targeted device ensures the most accurate test of your project in Composer before deployment.
NOTE: Because Composer runs on the Windows operating system, setting Composer's Play Mode to use the second or third Player option results in only an approximation of actual experience performance on any operating system other than Windows. It is possible that some aspects of your experience will work in Play Mode but not on your targeted device. Always test your experience on the targeted device; never assume that flawless playback in Composer's Play Mode means it will be flawless on platforms other than Windows.
The Windows Player option, on the other hand, is identical to a standalone Player on Windows. There is no difference.
Running Play Mode
To use Composer's Play Mode, click the triangular Play Mode button located at the top of Composer on the button ribbon. The default Player is Player on Windows.

If simulating Player on Windows, then, after entering Play Mode, you can use the F11 key on your keyboard to specify where to run the experience in a multi-screen setup. Each press of this button will toggle the running experience through a list of choices:
Maximize on the main screen
Maximize across all screens
Maximize on one screen (each press of F11 moves the experience to a new screen)
Place the experience in a resizeable window that locks in the aspect ratio of the original experience
Manual Selection of Player Technology for Composer's Play Mode
To manually select the appropriate instance of Player for Composer's Play Mode, select the Project menu item, then indicate your preferred Player:
Simulate Player on Windows
Simulate Player on other platforms (iPad/Android/...)
Simulate on Player Next Gen
The Player Next Gen version is only visible if you've been granted access by Intuiface. (If you'd like access, please let us know.) The version number may be different for you.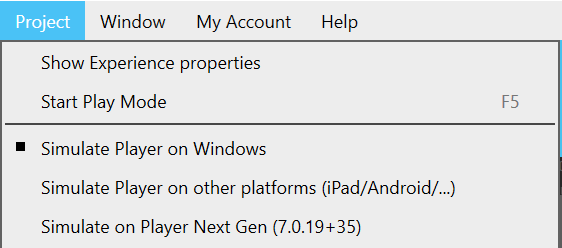 Automatic Selection of Player Technology for Composer's Play Mode
When creating a new experience targeting a tablet or kiosk resolution, Composer will automatically configure Play Mode to "Simulate Player on other platforms (iPad/Android/...)".