Overview
This article will explain how to run Intuiface Player on LG Smart Signage running webOS. Once Player is running, the user experience is identical to that of Player on every other supported platform. If you are already familiar with how to use Player on those platforms then you can go from a published Intuiface experience to running it on webOS in seconds. If you are new to Intuiface, hang in there - it's easy!
For customers with Player licenses purchased before 15-May-2019: LG webOS devices require the Player for Kiosks license.
Supported Hardware
Intuiface Player is supported on all LG Smart Signage displays running webOS Version 3.x or 4.x - i.e. all releases of Version 3 and Version 4. This includes LG's interactive smart signage displays like the IR-based TA3E Series and the PCAP-based TC3D Integrated Digital Board.
Certain webOS devices have an integrated touch display while others have touch enabled by an overlay.
Intuiface Player is not supported on LG Smart TVs.
Prerequisites
Use of Intuiface Player on webOS assumes you have an Intuiface account with an active Platform plan. Need one? Click here to register.
Become familiar with the current solution limitations. Some are due to Intuiface, others to webOS. All will be addressed over time.
Installing Player
Set the correct date/time.
Do this first! Do not skip this step or wait until after Player installation.
The correct date and time must be set for Player to work. To set it, access your device's General settings menu by pressing the Settings or Home button on your LG remote control.
NOTE: The Error - 7013 - can appear if the Date and Time Zone are not properly set.
We recommend you choose the Automatic Time/Date provided by your device as the Daylight Saving Time could mess up with your Time Zone.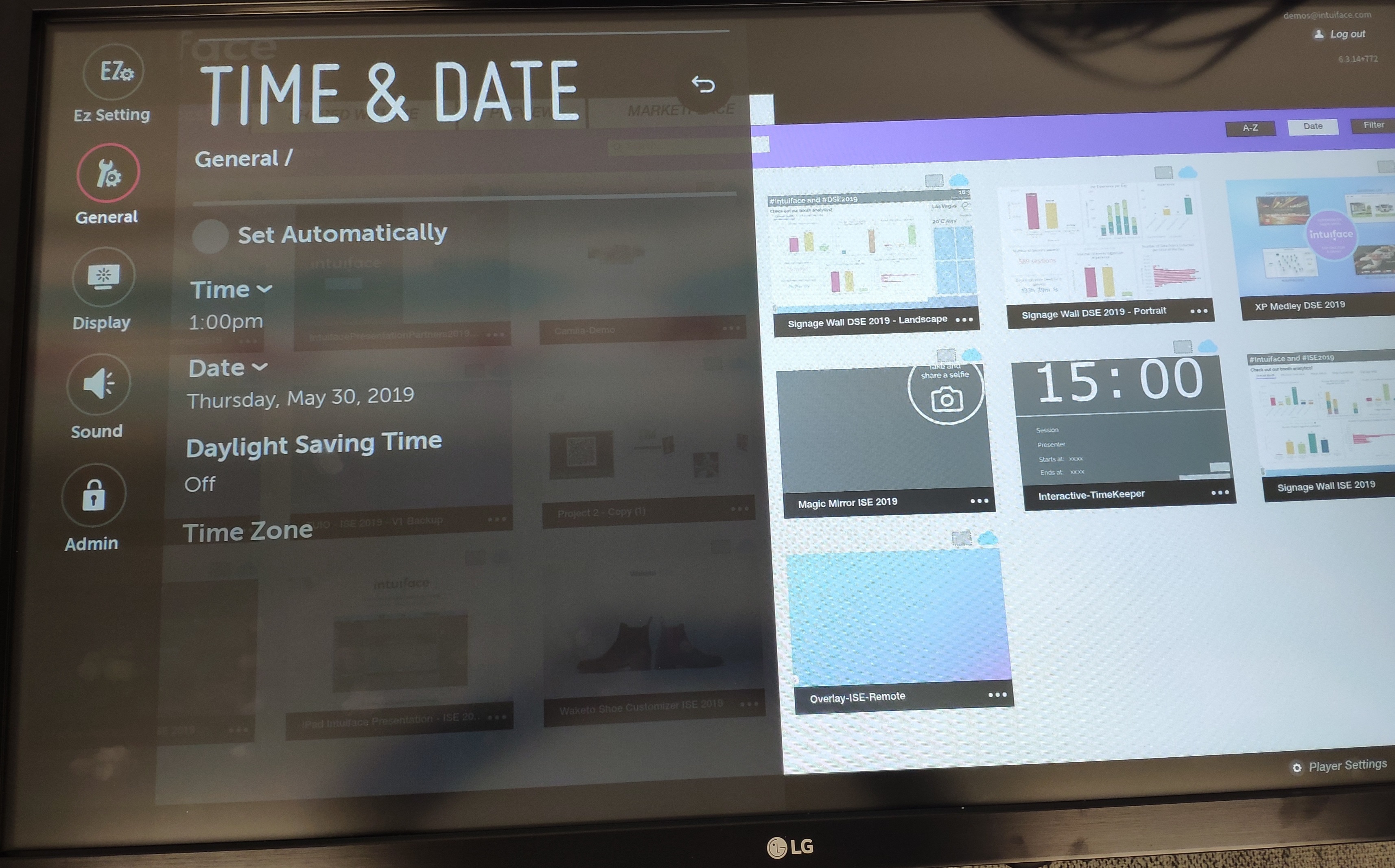 Open the Server settings menu
Open your device's SI Server Settings menu. To do so:
On the LG remote control, press the Home or Settings button.
Select SI Server from the list of settings tiles.
On certain models, the SI Server settings menu is accessed as follows:
Using the remote control, press and hold the Settings button until a pop-up window appears in the upper right corner of the screen.
Type 8080 using the remote control and then press the OK button. (If you mistype, you'll see the message No signal.)
In about five seconds, the Server settings menu will appear on the left.
Next, choose one of the two methods below to install Intuiface Player. Your choice depends upon whether your LG webOS device has an Internet connection.
Option One: Using Intuiface's remote server
If your webOS device is connected to Internet, this is the simplest solution.
On your signage device, enter the SI Server settings menu (see above)

In this settings menu, set the following fields using your remote control with the specified values. Follow these steps in order.

Application Launch Mode: Set it to Local.
Fully Qualified Domain Name: Set it to On and enter the following URL: http://webos.intuiface.com
Application Type: Set it to ipk.
Local Application Upgrade: Click the REMOTE button. This will start the download process.


After the download is complete, reboot your signage device.
Option Two: Using a USB flash drive
If your webOS device is not connected to the Internet, you can install Intuiface Player using a USB flash drive.
Download the Intuiface Player package here and rename it to com.lg.app.signage.ipk
This com.lg.app.signage.ipk file must be copied onto the USB flash drive in the location specified below. If such a path does not exist, create it.
[USB_root]/com.lg.app.signage.ipk
On your signage device, enter the Server settings menu (see above)

In the Server menu, set the following fields using your remote control with the specified values. The following fields are marked with corresponding letters in the screenshot below.


A. Application Launch Mode: Local
B. On the Local Application Upgrade field, click the USB button.

Player activation (aka assigning a license)
Assigning a license
Player activation is the process used to associate Player with an Intuiface account and - if available - a paid license. The activation mechanism has been designed to account for very large scale and highly variable deployments.
Choose any of the multiple Player activation options available for use.
NOTE:
When a license expires it is released automatically. Player will then attempt to request a new license the next time it is run.
If no active Platform plan/license is available, Player will not run.
License checkout order
If permitting Intuiface to automatically assign a license, such as when logging into Player, the oldest available license (based on the original purchase date) with the longest subscription duration will be selected.