Introduction
This article explains how the Signage Wall sample experience was built and how you can reuse it for your own needs. To access this sample, use the Marketplace tab of the Experiences panel in Composer or Player. You can also download it from this Marketplace page.
The "Signage Wall" experience illustrates how classic, non-interactive signage can be created with Intuiface. This experience includes a weather forecast, a Twitter feed, an analytics dashboard, and the ability to remotely control this experience using any smart phone or tablet.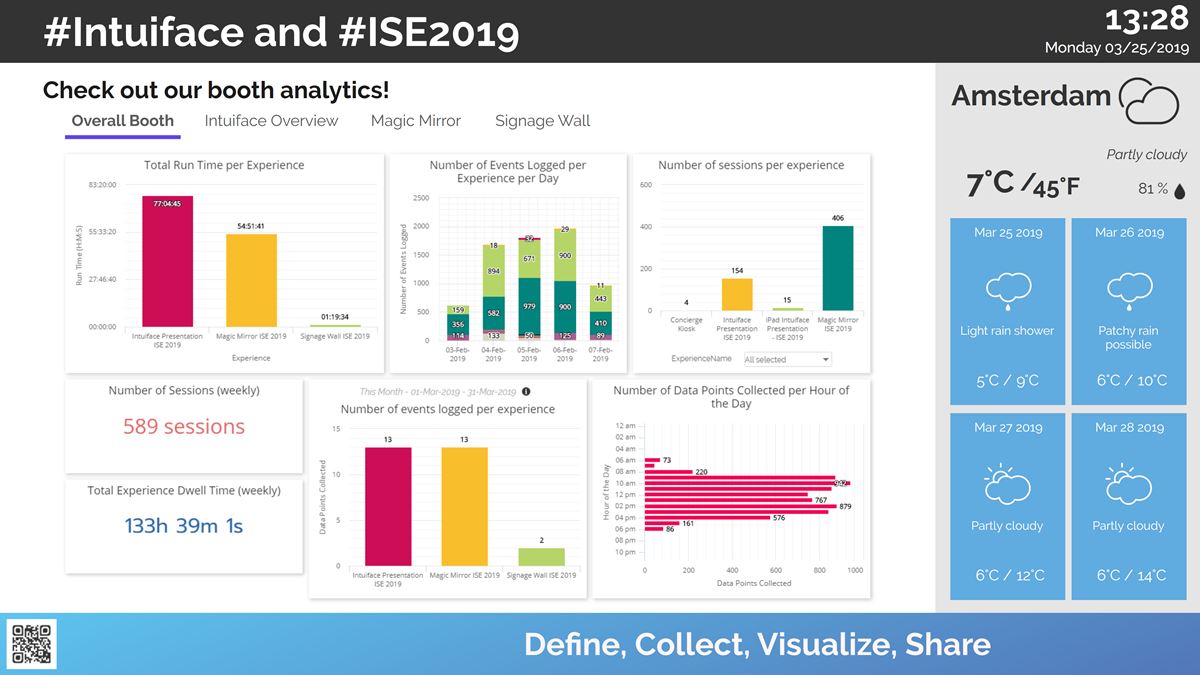 How it works
 This experience is composed of the following elements
The main area, displaying either an analytics dashboard or a looping video.

Dashboard data was collected in Intuiface's booth at ISE 2019 in February using the Analytics feature. The dashboard is displayed using a sharing link and a Web Browser asset. If interested, additions details about the Intuiface Analytics feature can be found in our Help Center.
The video is embedded within the experience and thus is configured to display if an Internet connection is lost. The video will also appear whenever an on-screen swipe gesture is performed on the experience background.

A top & bottom ribbon, displaying content retrieved from the third party online content management system, Airtable. With this connection, it is easy to change visual content without having to open and edit the experience in Composer. 
A sidebar on the right side of the screen, alternately showing
A QR Code enabling visitors to take control of the screen using a smartphone. This feature is fully documented in the Real Estate Shop Window sample article. 
The configuration of the CMS
A simple Airtable base was set up so users could configure the following fields
Title: located in the top bar
Subtitle: located just below the title
Footer: text with ticker tape animation located in the bottom bar
Twitter feed: the account to use with the Twitter Interface Asset
Weather City: the city to use with the Weather Interface Asset

Airtable-hosted information is retrieved automatically thanks to the API Explorer.
To create your own version of this Signage Wall, copy this Airtable base and paste its URL in the corresponding Interface Asset using API Explorer.