Description
This URL Broadcast interface asset enables you to broadcast a URL over Bluetooth Low Energy (Bluetooth LE) using the Eddystone-URL protocol, the most common scenario typical of the Physical Web™. It is core to the URL notification scenario described in the Beacons overview article.
This interface asset is only available on the Windows platform and requires use of a very specific Bluetooth stack. To learn more about these hardware requirements, see this article.

URL length specification
The Eddystone-URL protocol comes with a size limit imposed by the Bluetooth LE stack, requiring the URL you broadcast to be quite short: approximately 17 characters max. The details rules to compute the length of a URL to be encoded in the Eddistone-URL protocol are described in this article.
To accommodate this limit, Intuiface has a URL Shortener converter that can take any long URL and make a short one for you.
Here is an example:
URL: http://www.intuilab.com/features/connect-extend counts as 33 and won't be broadcasted

http://www. => 1
intuilab => 8
.com/ => 1
features/connect-extend => 23

the shortened version: http://tinyurl.com/jk9uua7 counts as 16 and will be broadcasted

http:// => 1
tinyurl => 7
.com/ => 1
jk9uua7 => 7
Configure a mobile phone to scan Eddystone-URL
To scan using Google Chrome on Android or iOS devices, you can follow the instructions of this guide
You can also download the Physical Web application for Android or iOS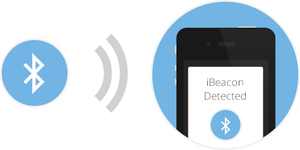 Properties, Triggers & Actions
Properties
URL: The URL to broadcast.
Broadcast URL: Toggle whether or not Intuiface should broadcast the specified URL.
Bluetooth device: Specifies which Bluetooth LE dongle attached to the Windows PC should be used for URL broadcasting. For details about this Bluetooth LE dongle, see here.
The property listed below is read-only and thus only accessible via binding.
URL format is valid: a true/false value confirming whether the entered URL is valid or not. Useful if the URL you will be broadcasting is dynamically provided by a third party source.
Triggers
Broadcast

Is started: Raised when the URL broadcast has started.
Is stopped: Raised when the URL broadcast has stopped.

URL

URL format is invalid: Raised when the URL format is invalid.
URL format is valid: Raised when the URL format is valid.
URL has changed: Raised when the URL has changed.
All these triggers have a URL parameter. You can use these trigger parameters in a condition or as an argument of an action accessible via binding.
Actions
In addition to the action enabling you to set the three major properties, you can also:
Start broadcast: Start broadcasting the predefined URL.
Stop broadcast: Stop broadcasting the URL.