Description
To share and deploy an experience, that experience must be published by Composer. To publish an experience is to place a copy of that experience in globally accessible cloud storage.
It is insufficient for you to manually store your experiences in the cloud. You must let Intuiface do this for you through the act of publishing an experience.
For cloud storage, Intuiface offers three options:
Intuiface Cloud Storage

This is the default storage option. It is preconfigured and ready for use out of the box. Under the covers, it uses Amazon S3 - although this fact is hidden from you. For details, see this page.

Amazon S3

An Amazon S3 account with a geographically local bucket offers faster performance than FTP storage. Region options for Amazon S3 buckets are listed here. For information about how to create an Amazon S3 account for the storage of published Intuiface experiences, please read this article.

Local FTP Server

Can be either FTP or FTP-SSL. Best for small-scale deployments. For details, see this article.
NOTE: For large-scale deployments - i.e. for pushing an experience to 100+ devices using the Share and Deploy console - we find Amazon S3 cloud storage and Amazon S3-based Intuiface Cloud Storage to be the most scalable and reliable options. And as recommended just above, if using your own Amazon S3 account, be sure to use a bucket that is as geographically close to your deployment as possible.
Granting Intuiface Access To Your Preferred Cloud Storage Option
To configure Intuiface to use your personal Amazon S3 or FTP server:
Go to the Share and Deploy console
Click the "Storage Settings" button to the right of the "Manage My Experiences" page.
Note: If your Intuiface account is a secondary account, it will not have access to Storage Settings.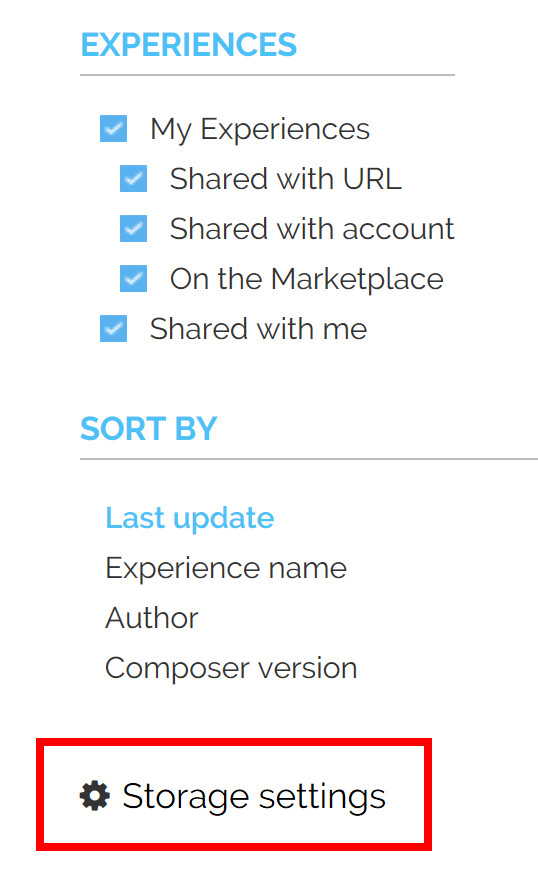 Click one of the icons representing the cloud storage provider you want to use

Now, enter the information necessary to grant Intuiface access to either FTP of Amazon S3 storage provider.
Click on Check to test if the information is correct
Click on Submit to save the configuration
Click on Set As Default button after configuring the connector in order to make this your default Publishing option.

NOTE: Experiences already published will continue to be updated on their associated storage.

NOTE: Each Intuiface account can only be granted access to one instance of each cloud storage provider. For example, if you have access to two or more Amazon S3 buckets, you must pick one and only one for your Intuiface account.
Changing the Default Storage provider
If you grant Intuiface access to two or more cloud storage providers you can identify which provider will be used by Intuiface. The initial storage you configure is automatically assigned the default role. To make a different provider the default storage, click the storage provider icon in the Storage Settings panel and click the Set as default button. The following image assumes you want your Amazon S3 provider to become the default one.

NOTE: Experiences already published will continue to be updated on their associated storage. If you want to use another storage, you must:
either delete it from the previous storage (from within the share and deploy console) - be sure to have a local copy of your experience - or
create a copy of the experience in the composer (Menu File -> Save as...)
Additional Notes
Enterprise-level accounts grant users a roll-over option: If one cloud storage option fills up, a second option will automatically be used. This will continue for all configured storage options.
Essential and Premier-level accounts grant users a limited roll-over option: If one cloud storage option fills up, a second option will be used. If the second option fills up, you must manually switch over to a new alternative.