From art exhibits and information kiosks to sales pitches and retail point-of-sale systems, creating interactive experiences with Intuiface is easy and the following tutorial will show you how. We'll start simple and then give you pointers about how to incorporate more advanced capability. And we promise - you will never write a line of code.
Preparing for the Tutorial
In this tutorial you will be recreating the Tim Burton promotional exhibit available for download through the Marketplace tab of the Intuiface Composer Experiences panel. At any time you can download the final version to see how we put it together. You can even open it in a separate instance of Composer - more than one instance of Composer can be run on the same PC at the same time - for cross-reference.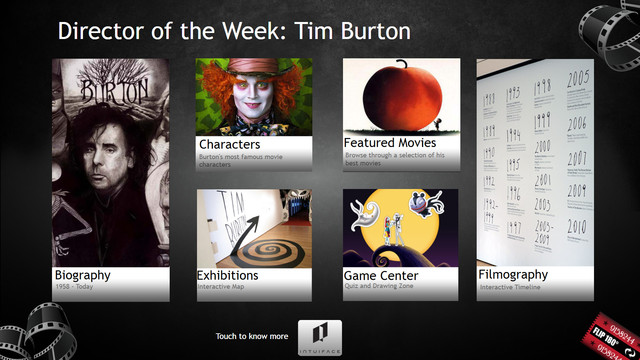 The images, videos and other content you will use in the tutorial are located here. (It's about 115 MB in size.)
Save this file to your PC and then - in File Explorer - right-click it and select Extract All. Note the target location for the unzipped files, changing the destination if you prefer. Intuiface grants you the right to use the content provided in this project but be aware that the content remains the property of its respective authors.
This tutorial is comprised of seven chapters.